If you are looking for a Mexican restaurant in Madrid for a unique lunch or dinner with friends, family, colleagues or partner, here is the definitive list of the best Mexican cuisine places in the capital.
The 8 most famous Mexican restaurants in Madrid
A Mexican restaurant is an establishment that specialises in traditional Mexican food. They offer a variety of food such as tacos, enchiladas, tamales, quesadillas, burritos, guacamole and more.
Mexican restaurants often use fresh ingredients such as tortillas, beef, chicken, pork, beans, rice, peppers, cilantro, onions and a variety of hot sauces.
Some Mexican restaurants also offer traditional drinks such as margaritas, tequila and Mexican beer. These places offer an authentic dining experience and are popular with locals and tourists looking for authentic Mexican food.
But you may be wondering, which are the most popular Mexican restaurants in the capital?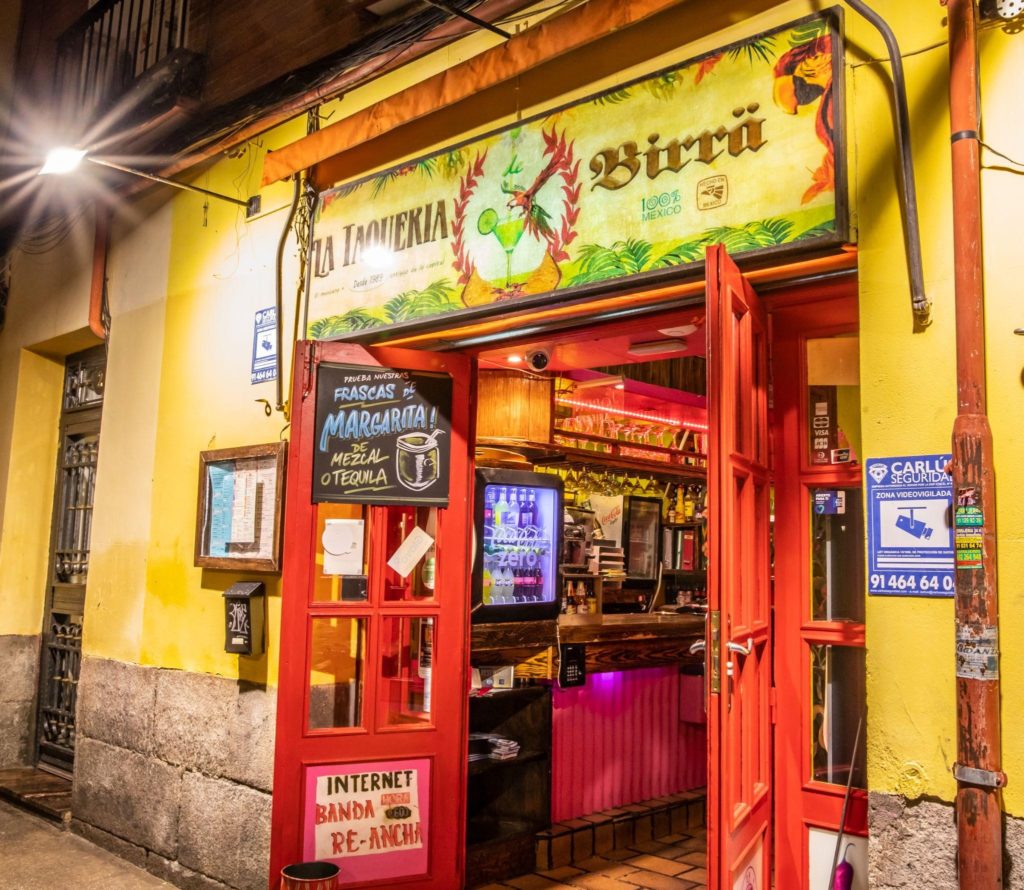 La Mordida
La Mordida is a restaurant known for a wide variety of Mexican food, including tacos, enchiladas, tortillas and more.
It is known for its authentic traditional Mexican food and cosy atmosphere. One of the best times to visit this famous restaurant is in mid-September when they celebrate Mexico's Fiestas Patrias.
Located at Calle de Pio Baroja 9, this place offers a great menu for two that includes a pitcher of margaritas. It is also relatively close to the Retiro Park, which is the main attraction of the plan.
Bakan
Bakan restaurant is a famous restaurant located in Miami, Florida, after its success, this restaurant opened another restaurant in Spain at the end of 2021, near the famous Puerta de Alcalá in Madrid.
It is known for offering modern and authentic Mexican food. The fact is that Bakan is distinguished by its cheerful and welcoming atmosphere, as well as its emphasis on fresh and high quality ingredients.
Bakana's dishes include a wide selection of tacos, ceviche, guacamole, enchiladas and other traditional Mexican dishes, as well as a wide selection of drinks, including a wide selection of tequila and mezcal.
The restaurant also has an outdoor terrace, making it a popular spot for lunch or an evening out with friends and/or family. Tacos range in price from 16 to 20 euros (2 pieces), a little pricey but well worth it. This place is located at Plaza de la Independencia 5, making it the perfect place to buy for a holiday and book later.
Tepic
Tepic Madrid is a Mexican restaurant located in the city of Madrid, Spain. It offers a variety of traditional Mexican dishes, such as tacos, enchiladas, guacamole, quesadillas, among others.
The restaurant stands out for its cosy atmosphere and typical Mexican decoration. It can also offer a selection of Mexican drinks, such as margaritas and Mexican beers.
And for those who are always looking for outdoor dining, this is also on the list of Mexican restaurants with terrace in Madrid.
If you are interested in visiting Tepic Madrid, we are waiting for you at Calle de Ayala, 14, located in the Salamanca neighbourhood. Tacos are priced at 18€ for 5 tacos.
Takos al Pastor
Takos al Pastor is one of the best value for money Mexican restaurants on the market, if not the best.
This place always has a long queue for their tacos and for good reason – and you can find one of the best tacos in Madrid for only €1 each!
Located at Calle de la Abada, 2, next to Madrid's Gran Vía. If you're in the area, you can't miss the famous tacos al pastor and the classic adobo de achiote.
Barracuda MX
The famous chef Roberto Ruiz has decided to open his second and so far only restaurant, after receiving the first Michelin star for a Mexican restaurant in Europe at Punto MX, the restaurant that unfortunately had to close due to the pandemic despite being a great success.
This new project aims to bring us closer to the Pacific coast of Mexico through raw fish, citrus sauces and fried food. Located at Calle Valenzuela 7, here you can find tacos from 14,20 € for 2, undoubtedly the most expensive on the list but certainly the most select.
12 Chiles
Located in the Mercado de la Paz (Calle Ayala 28; Goya district), this restaurant specialises in traditional Mexican street food.
The tacos are cooked on a comal in front of the customers. The fact that it is a food stall makes the price of the tacos quite affordable (starting at 3.95€ each, which is certainly a very low price considering the quality of the product) in terms of value for money.
Therefore, it can't be missing from this list of the best Mexican restaurants in Madrid.
La Chingona
At La Chingona you will find a new and cosy place where you can discover a mix of Mexican cuisine with a Spanish touch and Central American influences.
From the cold bar where you can see how oysters, aguachile or ceviche are cooked, to the wide range of tacos that combine the traditional with the modern in line with the latest culinary trends.
Its premises are located at Calle Argensola, 7 (ideal if you are passing through the centre) and Camino de la Zarzuela, 23 (ideal if you live in the northern region of Madrid).
You can find high quality tacos from €8.80 per 2 units.
Las Taquerías de Birra
La Taqueria de Birra Don Pedro, opened in 1989, is the oldest taqueria in the capital and therefore one of the most representative.
Our wealth of experience makes us true pioneers of Mexican cuisine in Madrid. We also have a private place called "La Cantina" which can be booked for private parties.
Tacos are a speciality of the menu, but we also have other dishes such as enchiladas, chilaquiles or tamales among others, as well as more classic desserts such as tortitas de cachete.
All these recipes are a perfect example of the best culinary traditions of the Aztec country, which have since been passed on to the tastes of the people of Madrid, but always maintaining their essence.
They also have vegetarian options on their menu. Their restaurants are located in Plaza de las Comendadoras 2 andCalle Don Pedro 11, two historic and iconic places in the heart of Madrid where you can make a thousand and one plans and then enjoy a delicious Mexican taco.
Tacos cost between €8.90 and €9.90 (3 units).
With this review of the best-known Mexican restaurants in the capital, there will be no excuse for not doing something different any day of the week.