If we move to Mexico and its gastronomy, tacos inevitably come to mind. Mexican tacos are not only popular in Mexico, but are also one of the most famous dishes in the world.
In addition, Aztec gastronomy also adds a sweet touch with its cocktails and exquisite desserts.
But in this article we will concentrate on showing you how to make chicken tacos step by step so that you can cook them in the purest Mexican style.
How to make Mexican-style chicken tacos quickly and easily?
There are a variety of ways to prepare chicken tacos, depending on the type of chicken and style you want to obtain.
They can be classified as follows: beef tacos, chicken tacos or pork tacos, although there are also categories for vegetarians. In any case, even if you prepare chicken, pork or beef tacos, every good Mexican taco should have vegetables such as pico de gallo or vegetables such as peppers, as well as your favourite sauces.
In this recipe, we'll focus on how to make chicken tacos.
Here are the ingredients and steps to follow so you know how to make the general recipe for homemade Mexican chicken tacos easily. Let's get started!
Ingredients to make chicken tacos
Ingredients to make chicken tacos 6 units
6 wheat or corn tortillas
2 chicken breasts
1 sprig of chopped coriander
1 red pepper
1 green pepper
1 yellow pepper
1 onion
Lime or lemon juice
Salt and pepper
Oil
Grated cheese
Chili powder (optional)
Preparation of the chicken tacos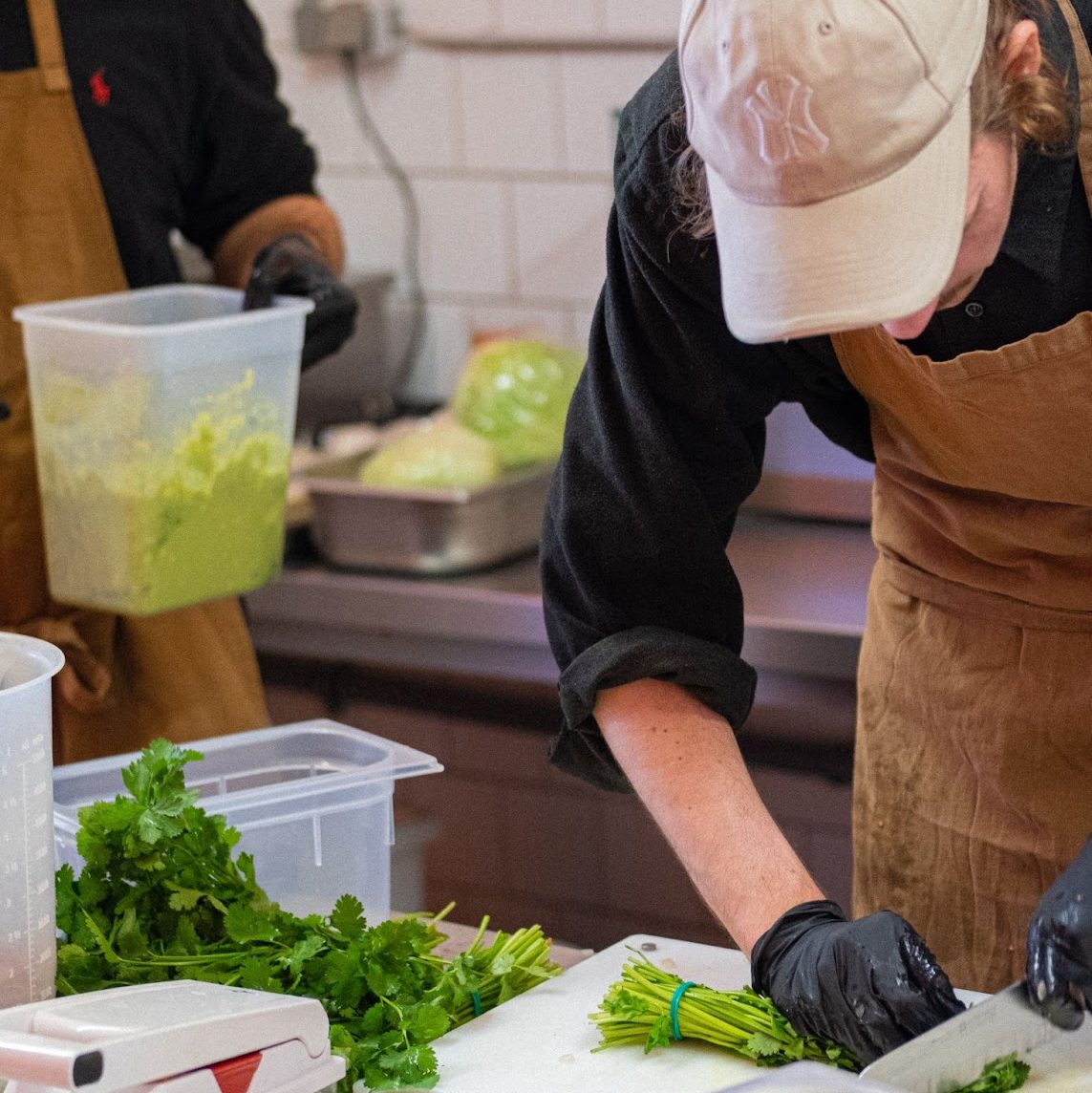 How to prepare Mexican chicken tacos step by step?
To begin with, prepare the peppers. Cut them into thin strips, about 1 cm thick, and remove the seeds and the white areas. We also peel the onion and cut it into cubes.
Then, in a frying pan over a high heat, add a dash of oil. Once hot, add the chicken cut into cubes and season with salt and pepper. It is important that it is browned on the outside but a little raw on the inside.
Remove the chicken from the pan and leave it on a plate. In the same pan, first add the onion and the red and yellow peppers. Cook for 5 minutes, stirring repeatedly, and then add the green pepper. Cook for a further 10 minutes, stirring occasionally.
When the vegetables are soft, but still need a little more time to finish cooking, add the chicken again, along with any juices it may have released in the dish. Optionally, add the chilli powder to taste, and cook for a further 5 minutes.
Once prepared, heat the wheat or corn tortillas in a frying pan over medium heat, on both sides, without any oil.
Remove the tortillas from the frying pan and add a few spoonfuls of the sofrito of pepper and chicken. Top with a little chopped coriander, a squeeze of lemon or lime juice and finally, grated cheese on top.
To make your tacos purely Mexican, you can add guacamole or any other Mexican sauce you like.
Once you have followed these steps, your chicken tacos are ready, but if you want to make tacos in the purest Mexican style, we recommend that you prepare your own homemade tortillas.
If you don't have time or you want to enjoy a different kind of dinner, remember! At Taqueria de Birra we are experts in tacos and Mexican food since 1989, so if you want to taste tacos in the purest Mexican style, we invite you to order to take away or come and try them at C/ Don Pedro, 11 or at Plaza de las Comendadoras, 2.